Mauritis Cornelius Escher (1898-1972) is a Dutch graphic artist. He created "tilings," pictures in which shapes are designed to fit together and fill the surface without gaps or overlaps. He designed Metamorphose III, a 42 foot mural for the post office in Kerkplein, The Hague in 1967-1968. A portion of this mural is shown in the stamp below with a picture of Escher in the lower right hand corner.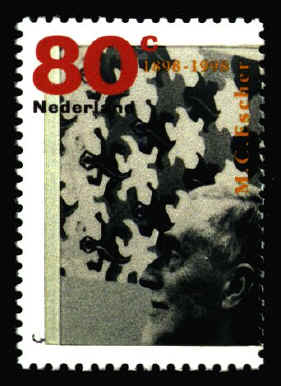 In 1935 Escher designed a semi-postal stamp with a surcharge to support the "National Aviation Fund." Escher's monograpm is in the lower left corner of the design.
The regular postal issues below (1949) have a design of interlocked posthorns.
He also designed stamps in 1949 for the Netherlands Antilles (Scott 206-207) and Surinam (Scott 238-239) to mark the 75th anniversary of the UPU.
Escher became interested in "impossible" objects, those that are impossible in three dimensions, but can be created in two dimensions to make an illusion in three dimensions. The cube displayed on the stamp below is used in both Man with Cuboid and Belvedere, from 1958. In Belvedere the structure also is based on the impossible cube. Waterfall, 1961, also explores the cube.