Many fictional detectives have been portrayed in motion pictures. Several countries have issued sets of stamps which identify the actors and directors who were involved in them.
Germany honored Hans Albers who acted in a Sherlock Holmes movie.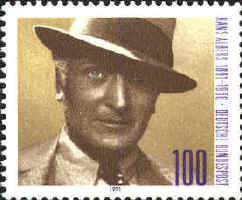 The United Kingdom honored Peter Sellers who portrayed "Inspector Clouseau" in a series of motion pictures from 1963 to 1993: The Pink Panther, The Pink Panther Strikes Again, The Return of the Pink Panther, A Shot in the Dark, and The Revenge of the Pink Panther.
In 1941 Humphrey Bogart played Sam Spade in The Maltese Falcon, one of the best private eye films ever made.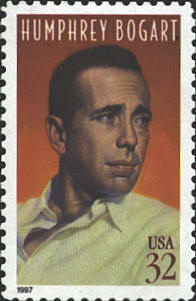 The United Kingdom also honored Alfred Hitchcock who directed many mystery and detective movies, such as Vertigo, Dial "M" for Murder, The Man Who Knew Too Much, and Rear Window.
The Caribbean island nation of Dominica issued two souvenir sheets honoring the "Legendary Sleuths of the Silver Screen" and the actors who portrayed them. Sam Spade was portrayed by Humphrey Bogart, James Bond by Sean Connery, Dick Tracy by Warren Beaty, Sherlock Holmes by Basil Rathbone, the "Thin Man" by William Powell, Charlie Chan by Sidney Toler, Inspector Clouseau by Peter Sellers, Philip Marlow by Robert Mitchum, Inspector Poirot by Peter Ustinov, and Miss Marple by Margaret Rutherford.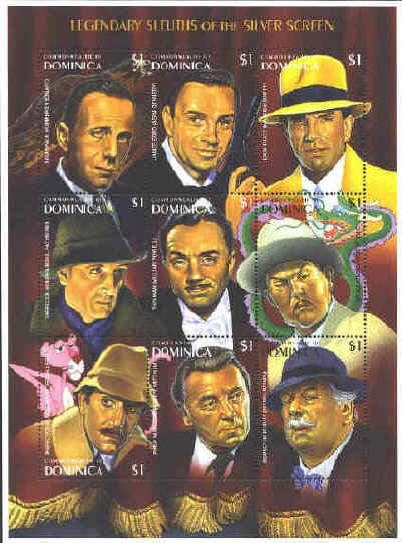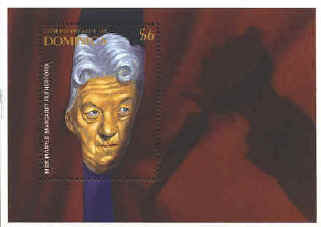 In 1996 the Channel Island, Guernsey, issued a Prestige Booklet honoring six detectives and the actors who portrayed them. In the booklet Humphrey Bogart portrayed Philip Marlowe, Margaret Rutherford portrayed Miss Marple, Peter Sellers portrayed Inspector Clouseau, Warner Oland portrayed Charlie Chan, and Basil Rathbone portrayed Sherlock Holmes.