The van Keulen family operated a chart-making and publishing firm in Amsterdam for nearly 200 years. It was founded by Johannes van Keulen who registered his business as a "bookseller and cross-staff maker." Under his management the Nieuwe Lichtende Zee-Faakel (New Shining Sea Torch) was begun in 1681. It was expanded to five volumes, and finally to six volumes with the addition of material from the secret files of the East India Company. In 1693 van Keulen acquired the stock of Hendrik Doncker.
Johannes was succeeded by his son, Gerard, 1714. Gerard was a cartographer, and in 1706 was appointed Hydrographer to the East India Company. He was followed by his son, Johannes, who assumed control of the firm in 1726. In 1743 he was appointed "Official chart maker of the East India Company."
On his death in 1770 he was followed by his two sons, Cornelis Buys and Gerard Hulst van Keulen, and by Gerard Hulst's son, Johannes in 1810. The firm ceased with the death of Gerard Hulst in 1844.
The map of Mauritius were published in the secret atlas of the East India Company for their own internal use around 1753.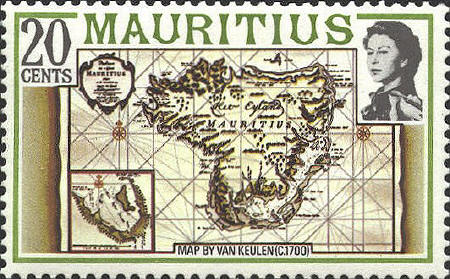 The title of the map is Paskaart van't Eyland Mauritius, geleegen in de Oostindische Zee beoosten met Eyland Madagascar. te Amsterdam by Johannes van Keulen Zee-Boek en Kaart Verkopen.... It was published in 1695. The map in the inset is captioned Noord Wester Haven.