Albrecht Dürer was one of the greatest artists of the German Renaissance. He worked in many media, woodcut, engraving, oil, watercolor, and produced portraits and self-portraits, religious works and altarpieces, as well as studies of animals and plants.
He was born in 1471 the second son of Albrecht Dürer the Elder and Barbara Holper. His father was a goldsmith and he began his art training as a draughtsman in his father's workshop in Nuremberg. In 1486 he was apprenticed to Michael Wohlgemut for three years. He studied in Italy, the Netherlands, and Basel. He married Agnes Frey, the daughter of a Nuremberg merchant in 1494. In 1518 he met Martin Luther at Augsburg, and later became a follower of the reformer.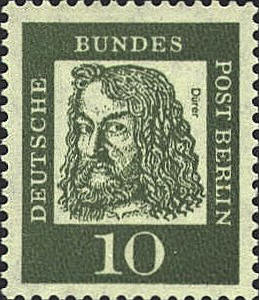 The Head of Christ below is generally attributed to Dürer. However, it is the work of Hans Sebald Beham, in the style of Dürer. (The date of Dürer's birth is also incorrect on the stamps from Mali. He was born in Nuremberg in 1471.)
The Resurrection is a woodcut done in 1510, part of the "Large Passion." It is in the Graphische Sammlung Albertina, Vienna.