The descriptions of the detectives and criminals pictured on the stamps is from the booklet containing the stamps. The surcharge on each stamp was for the French Red Cross.
Hero of serial-novels which newspaper readers devoured in the last century, Rocambole was so popular that he gave his name to an adjective which has passed into the current language: rocambolesque [fantastic, incredible]. Capable of any misdeed, this not-so-commendable personage created by Pierre-Alexis Ponson de Terrail (1829-1871), would, however, take the side of the weak against the strong.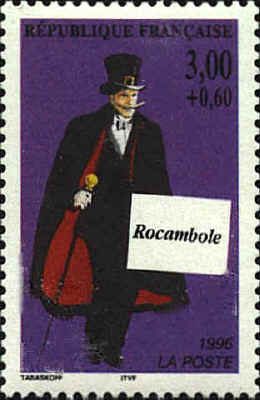 The gentleman burglar was an aristocrat at heart, the "Cyrano of the underworld" for Jean-Paul Sartre, who only robbed the rich when they deserved it. Master of disguise, Arsène Lupin played all the parts and usurped all the identities. His creator, Maurice Leblanc (1864-1941), devoted about fifty novels to this eternal adventurer.
Like Lupin, Rouletabille was skilled at mystification and transformations of all kinds, involving the reader in inextricable adventures. This perspicacious amateur detective, very popular at the beginning of the century, was quickly forsaken by his author, Gaston Leroux (1868-1927), to the profit of another hero, Chéri-Bibi.
A sportsman and elegant member of high society when not wearing his mask, Fantômas transforms himself into a ferocious criminal as soon as he slips into his black outfit. Created in 1911 by Pierre Souvestre (1874-1914) and Marcel Allain (1885-1969), this evil genius terrorized generations of readers, and was often brought to the screen.
His massive silhouette and eternal pipe have become legendary. Created in the '30s by Georges Simenon (1903-1989), Chief Inspector Maigret is the incarnation par excellence of the humane police officer, who soaks in situations to unravel them from the inside: "He watched for the crack, the moment when the man behind the player appeared," Simenon wrote of his hero.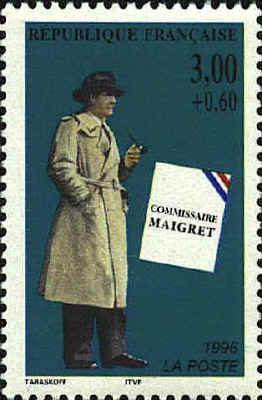 Cocky, ever cynical, savagely independent, funny and charming... in short, typically French: Nestor Burma, the "private eye" par excellence, created by Léo Malet (1909-1996), the father of the French black novel. His masterpiece: New Mysteries of Paris, where Burma explores one after another the fifteen districts of the capital.